Follow David Keith Updates:
View David Keith Pictures »
(Source: Getty Images)
Source: Bauer Griffin
Source: Getty Images
Source: Getty Images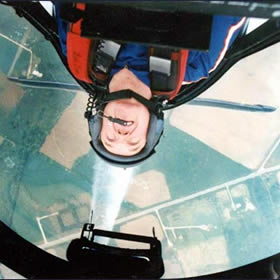 The Federal Aviation Administration says David Martz's license was taken away — the fifth time his license has been revoked or suspended.This time it was revoked because of a "pornographic" tape that was released to the Internet and showed
David Keith Martz
flying carelessly while engaged in sex acts.

Here's more info on the "porno pilot "

Overview
David Keith news, related photos and videos, and reviews of David Keith performances. David Keith is an actor and director. He was born in Knoxville, Tennessee. David Keith had an early supporting role in the prison film Brubaker. He also appeared in the 1995 film The Indian in the Cupboard as the cowboy "Boo-Hoo" Boone. He also had a...
more
David Keith news, related photos and videos, and reviews of David Keith performances. David Keith is an actor and director. He was born in Knoxville, Tennessee.

David Keith had an early supporting role in the prison film Brubaker. He also appeared in the 1995 film The Indian in the Cupboard as the cowboy "Boo-Hoo" Boone. He also had a supporting role in The Rose, starring Bette Midler, and later co-starred with Richard Gere in An Officer and a Gentleman. Keith also played a local thug in The Great Santini, starred in The Lords of Discipline and White of the Eye, and held a prominent supporting role in U-571 opposite Matthew McConaughey. He played opposite child-star Drew Barrymore in the 1984 hit Firestarter and Brooke Shields in 1992's Running Wild. Keith played Elvis Presley in the 1988 film Heartbreak Hotel. He directed The Curse and The Further Adventures of Tennessee Buck (in which he also starred). He played the leading role of Nate Springfield in the 2003 film Hangman's Curse He also co-starred in The Class, an American sitcom, as Yonk Allen, a retired professional football player. Other roles include parts in Daredevil, the 2002 TV-movie Carrie as the Detective John Mulcahey and television shows such as Navy NCIS, Law & Order: Special Victims Unit , Law & Order: Criminal Intent and High Incident. More recently, he appeared in the 2004 film Raise Your Voice starring Hilary Duff, and the 2006 film Expiration Date.

Source: Wikipedia