Alternative Thanksgiving Dinners
The Thanksgiving Turkey makes its way during the 81st annual Macy's Thanksgiving Day Parade on November 22, 2007, in New York City. (Getty Images)more pics

»
It's the same thing every year: a giant turkey followed by ten different sides (including the obligatory stuffing and controversial sweet potato casserole). Move on to the pumpkin or pecan pie, and then retire to your bed to enter a week-long food coma. Every year, you may feel tempted to try something different. Some couples and families rebel completely and decide to order Chinese takeout. Others will set up a huge Italian or Mexican buffet – after all, it's more about being together than cooking an elaborate meal.
If you are somewhere in the middle, between "I'm bored with the traditional meal" and "I can't bear to abandon tradition completely," here are some suggestions. Below are three menus customized to suit your Thanksgiving needs: Healthy Vegetarian, Southern Comfort and Upscale Gourmet. None of the meals feature plain turkey as the main course, but all of them incorporate five courses of the tastes and treasures that we love about the holidays, with a twist.
Healthy Vegetarian
Appetizer: Wild Mushroom Pâté
Wild mushroom pâté on crackers.

Enjoy the texture of a pate without the meat (and fat). Use seasonal mushrooms like chanterelles or porcinis for optimal taste and festiveness.
Recipe from
CookingDebauchery.com
.
1 pound mushrooms, chopped
1-2 tablespoons olive oil
3-4 cloves garlic, crushed [1]
1 cup walnuts, toasted and chopped
1 tablespoons water or stock
½ teaspoon chopped fresh thyme
1-2 tablespoons cognac or sherry (optional)
Salt & pepper to taste
In a skillet sauté mushrooms, cognac, and garlic till they are lightly caramelized, about 10-12 minutes. Season lightly wish salt and pepper. Add the fresh thyme and sauté for another 2 minutes.
Remove from heat and transfer to a food processor. Add the nuts and blend until smooth. Use a little water or stock to thin the mixture if necessary.
Taste and adjust the seasoning as necessary.
Entree: Roast Tofurky baked with Caramelized Onion and Cherry Relish
Roasted sliced Tofurky.

It's like a turkey, but made with tofu: a perfect vegetarian protein for the holidays.
Recipe from
Tofurky.com
.
2 tablespoons olive oil
1 large onion, sliced very thin
1 cup dried sour cherries
2 tablespoons brown sugar
2 teaspoons dijon mustard
2 tablespoons balsamic vinegar
4 tablespoons apple cider
1 Tofurky roast
Preheat oven to 350 degrees.
In a large skillet, heat olive oil on medium heat. Add onion, cherries, brown sugar and vinegar and cook, stirring occasionally, until onions are soft. Stir in mustard and apple cider, and simmer for two more minutes.
Place Tofurky roast on sheet of heavy-duty aluminum foil, and spread with the onion mixture. Wrap roast snugly with the foil. Place in roasting pan, and place on center rack of oven. Bake for 45 minutes. Uncover roast for last 10 minutes of baking.
Slice roast, and serve with some of the pan juices spooned over it.
*Can be served with Tofurky Giblet & Mushroom Gravy drizzled over it also.
Side: Spaghetti Squash with Tomatoes, Olives and Feta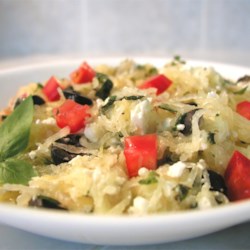 The finished spaghetti squash.

This squash is nothing short of a miracle. All you have to do is stick it in the oven and when it comes out, it shreds into thin strands like pasta. It's a great way to avoid starches without sacrificing your love of everything Italian.
Recipe from
AllRecipes.com
.
1 spaghetti squash, halved lengthwise and seeded
2 tablespoons vegetable oil
1 onion, chopped
1 clove garlic, minced
1 1/2 cups chopped tomatoes
3/4 cup crumbled feta cheese
3 tablespoons sliced black olives
2 tablespoons chopped fresh basil

Preheat oven to 350 degrees F (175 degrees C). Lightly grease a baking sheet.

Place spaghetti squash cut sides down on the prepared baking sheet, and bake 30 minutes in the preheated oven, or until a sharp knife can be inserted with only a little resistance. Remove squash from oven, and set aside to cool enough to be easily handled.


Meanwhile, heat oil in a skillet over medium heat. Saute onion in oil until tender. Add garlic, and saute for 2 to 3 minutes. Stir in the tomatoes, and cook only until tomatoes are warm.


Use a large spoon to scoop the stringy pulp from the squash, and place in a medium bowl. Toss with the sauteed vegetables, feta cheese, olives, and basil. Serve warm.
Side: Quince and Currant Chutney
A dish filled with festive chutney.

No need to be stuck with cranberry sauce every year. This chutney incorporates tons of spices for a perfect holiday side dish.
Recipe from
Epicurious.com
.
1 pound quinces (about 3 medium), peeled, quartered, cored, cut into 1/3-inch cubes (about scant 4 cups)
1 1/2 cups apple cider
1 1/2 cups chopped red onion
1/2 cup apple cider vinegar
1/2 cup (packed) golden brown sugar
1/2 cup dried currants
1/4 cup minced peeled fresh ginger
2 teaspoons grated orange peel
1 whole star anise
1 teaspoon black mustard seeds
1/2 teaspoon dried crushed red pepper
1/2 teaspoon ground cardamom
1/8 teaspoon salt
Mix all ingredients in heavy large saucepan; bring to boil. Reduce heat to medium-low and simmer until almost all liquid is absorbed, stirring often, about 45 minutes. Discard star anise. (Can be made 4 days ahead. Cover; chill.)
Dessert: Maple Hazelnut Pie
A slice of sweet, nutty pie.

Okay, so not everything in your Thanksgiving feast can be healthy. Hazelnuts make a great substitute for the classic pecan in this inventive dish.
Recipe from
Epicurious.com
.
3/4 cup pure maple syrup (preferably Grade B)
1/2 cup (packed) golden brown sugar
1/2 cup light corn syrup
1/4 teaspoon salt
2 tablespoons bourbon
1/4 cup (1/2 stick) unsalted butter, cut into 1/2-inch cubes
Nonstick vegetable oil spray
1 refrigerated pie crust (half of 15-ounce package)
1 large egg white, lightly beaten to loosen
1 cup hazelnuts, husked, coarsely chopped (about 5 ounces)
3 large eggs
1 teaspoon vanilla extract
Bring maple syrup, brown sugar, corn syrup, and salt to boil in medium saucepan over medium heat, stirring until sugar dissolves. Continue boiling 1 minute, reducing heat as needed to prevent mixture from boiling over. Remove pan from heat. Add bourbon, then butter; whisk until butter melts. Let cool to lukewarm, whisking occasionally, about 20 minutes.
Preheat oven to 350°F. Spray 9-inch-diameter glass pie dish with nonstick spray. Unroll pie crust. Line dish with crust. Crimp edges decoratively. Brush crust with enough egg white to coat. Scatter hazelnuts over. Whisk eggs and vanilla extract in medium bowl until blended. Whisk cooled maple-sugar mixture into egg mixture. Pour mixture over hazelnuts in crust. Bake pie until filling is set and slightly puffed, about 50 minutes. Cool completely on rack. Can be made 1 day ahead. Cover and keep at room temperature.
Southern Comfort
Appetizer: Holiday Bacon Hors d'Oeuvre

Bacon appetizers on a baking sheet.
This dish is the least pretentious recipe I've ever seen, but they taste amazing.
Recipe from
ThePioneerWoman.com
.
1 box of Club Crackers
Large package Thin-Sliced Bacon
1 bottle Grated Parmesan Cheese (like Kraft)
Lay crackers on a cookie sheet face up. Spoon one teaspoon of cheese over each cracker. Cut bacon slices in half and wrap half a piece of bacon around each cracker. Place the baking sheet in a 250-degree oven for around two hours.
Entree: Turducken
Turducken on a holiday platter.

Paula Deen invented Southern Comfort, so we can take her advice on this one. A chicken inside a duck inside a turkey (with dressing) may sound overwhelming, but it's a surprising crowd pleaser. You can also buy Turkucken pre-assembled if this looks like too much work.
Recipe from
FoodNetwork.com
.
1 cup kosher salt
1 cup brown sugar
1 gallon water
18 to 21-pound turkey, skin intact and boned except for drumsticks
House seasoning, recipe follows
Cornbread Dressing, recipe follows
3 to 4-pound duck, boned
3 to 4-pound chicken, boned
Paprika
To make the brine: Mix salt and sugar with the water. Brine is ready when the mixture is completely dissolved. If the water is heated to quicken the process, make sure it is cooled to room temperature before placing meat in. Let the 3 birds sit in brine in the refrigerator overnight.
Preheat roaster to 500 degrees F. Lay turkey skin side down on a flat surface. Dust turkey with House Seasoning and add 1/4-inch layer of cornbread dressing. Lay duck skin side down on top of dressing. Dust duck with House Seasoning and add 1/4-inch layer of dressing. Repeat with the chicken.
Begin trussing up the turkey at the neck. Insert metal skewer about 1/2-inch from the edge and up through the other side. Run butcher's twine between skin and skewer and tighten to draw both sides together. Continue down to legs. With every other skewer, draw together the duck and chicken skin. Tie together turkey legs to resemble standard turkey. Dust turkey skin with paprika.
Roast turducken for 15 minutes. Then turn the roaster down to 225 degrees F to finish, approximately 3 hours. Remove turducken from roaster once the internal temperature in the chicken reaches 155 degrees F. Let rest for at least 20 minutes before carving.
Cut across the middle of the breast completely through. Plate thin slices containing turkey, duck and chicken.
Cook's Notes: If using a smoker to cook, smoke at 225 degrees F for 5 hours, rotating every 20 to 30 minutes until internal temperature reaches 155 degrees F and external temperature reaches 165 degrees F. Try to keep the flare-ups from the fire to a minimum.
Side: Sweet Potato Fries
Seasoned sweet potato fries.

Remember that casserole I mentioned earlier? For everyone who is grossed out by the marshmallows, try this casual twist on the original for a delicious side dish.
Recipe from
RecipeTips.com
.
2 pounds sweet potatoes
2 tablespoons olive oil
1/2 teaspoon course kosher salt, adjust to taste
1/4 teaspoon garlic pepper, adjust to taste
1/4 teaspoon paprika
Preheat oven to 450ºF. Generously coat baking sheet with vegetable cooking spray or olive oil.
Peel sweet potatoes. Cut into 1/2-inch thick sticks that are approximately 4 to 5-inches long, or cut into wedges.
Place potatoes into a large bowl and drizzle with olive oil. Sprinkle potatoes with seasonings and stir until potatoes are evenly coated. Place potatoes in a single layer on baking sheet. Potatoes may need to be baked in 2 separate batches.
Bake approximately 10 minutes. Remove and turn potatoes over, return to oven. Bake potatoes an additional 20 minutes or until done. Season to taste and serve hot.
Side: Maple Bacon Butternut Squash Casserole
The casserole ready to taste.
You can't have a real southern meal without a casserole, but try this butternut maple bacon one for a refreshing (and tasty) change.
Recipe from
WithMarie.com
.
1 large butternut squash, cut in half
6 tablespoons milk
2 tablespoons unsalted butter
2 packages of microwavable bacon (4 pieces per package)
5-7 tablespoons pure maple syrup, depending on desired sweetness
Pinch of salt
Remove seeds and strings from squash. Cover with plastic wrap. Microwave on high for 8-10 minutes. Continue cooking for 3-5 minutes if squash is still hard. When soft, let cool for about 5 minutes.
Microwave each package of bacon separately. If defrosted, microwave each bacon package for 2-3 minutes on high. Cut open bag with knife (be careful: steam will be hot!). Let bacon cool for 2-3 minutes. Using sharp knife, chop bacon into small pieces.
Using spoon, scoop squash into a large bowl. Add milk and butter. Mash until smooth. Add pinch of salt, maple syrup, and bacon crumbles. Stir to combine. Reheat in oven or microwave if needed before serving.
Dessert: Apple Butter Pumpkin Pie
A slice of pie garnished to perfection.

I said no pumpkin pie, and I meant it. This one has a tweak to the traditional recipe that makes it even more down home and delectable.
Recipe from
FoodNetwork.com
.
1 cup apple butter
1 cup fresh or canned pumpkin
1/2 cup packed brown sugar
1/2 teaspoon salt
3/4 teaspoon ground cinnamon
3/4 teaspoon ground nutmeg
1/8 teaspoon ground ginger
3 eggs, slightly beaten
3/4 cup evaporated milk
1 unbaked 9-inch pie shell
Sweetened whipped cream, for garnish
Preheat oven to 425 degrees F.
Combine apple butter, pumpkin, sugar, salt and spices in a bowl. Stir in eggs. Gradually add milk and mix well. Pour into pie shell. Bake for about 40 minutes or until set.
French Gourmet
Appetizer: Beet soup in Acorn Squash
Squash makes a perfect bowl for this soup.

A festive presentation brings a holiday feel to the inventive beet soup.
Recipe from
Epicurious.com
.
For roasted squash:
8 (1- to 1 1/4-pound) acorn squash
3 tablespoons vegetable oil
1 tablespoon kosher salt
For soup:
1 large red onion, chopped
1 1/2 tablespoons vegetable oil
5 medium beets (2 pounds without greens), peeled and cut into 1-inch pieces
1 red apple such as Gala or Braeburn, peeled and cut into 1-inch pieces
2 garlic cloves, minced
4 cups chicken or vegetable broth
4 to 5 cups water
2 tablespoons cider vinegar
1 tablespoon packed light brown sugar
Preheat oven to 375°F.
Cut off "tops" of squash (about 1 inch from stem end) and reserve. Scoop out seeds and discard. Cut a very thin slice off bottoms of squash to create a stable base. Brush "bowls" and tops all over with oil and sprinkle salt inside. Arrange squash bowls, with tops alongside, stem ends up, in 2 large shallow baking pans.
Roast squash in upper and lower thirds of oven, switching position of pans halfway through baking, until flesh of squash is just tender, about 1 1/4hours total.
Make soup while squash roast. Cook onion in oil in a 5-quart heavy saucepan over moderate heat, stirring occasionally, until softened. Add beets and apple and cook, stirring occasionally, 5 minutes. Add garlic and cook, stirring, 30 seconds.
Add broth and 4 cups water, then simmer, uncovered, until beets are tender, about 40 minutes. Stir in vinegar and brown sugar.
Purée soup in 3 batches in a blender until very smooth, at least 1 minute per batch (use caution when blending hot liquids), transferring to a large bowl. Return soup to pan, then season with salt and pepper and reheat. If soup is too thick, add enough water to thin to desired consistency.
Serve soup in squash bowls.
Entree: Cornish Hen and Blood Orange Pot au Feu
Two finished and served hens.

For a Thanksgiving feast that is sure to impress, cornish hen makes a great replacement for turkey. This is a French dish ideal for serving individual guests.
Recipe from
VisualRecipes.com
.
2 Cornish Hens
3 cloves Garlic (diced)
1 small bulb Fennel
2 Carrots
1-2 Parsnips
2 stalks Celery
1 small Onion
1 Sweet Potato
3-4 Red Pearl Onions
3 Medjool Dates
15-20 Tellicherry Peppercorns (roasted)
2 Bay Leaves
2 sprigs Thyme
1 Blood Orange (peeled and segmented in supremes)
1 cup Blood Orange Juice
2 tbsp Ginger (minced)
1/3 cup Cognac
For the glaze:
3 tbsp Dijon Mustard
1 tbsp White Wine Vinegar
3 tbsp Olive Oil
2 tbsp Honey
1/2 Blood Orange
Tourne the carrots, sweet potato, and parsnips (getting about 3 bouquetieres of each per serving). Peel the pearl onions, and wash and pit the dates. Save the carrot peelings for mirepoix later. Dice the celery, onion, fennel, and garlic.
Place the cornish hens and giblets in a pot and fill with enough cold water to cover them. Bring the Water to a boil, and reduce to a simmer. Skim off the top layer. Add your mirepoix, fennel, garlic, thyme, bay leaves, and peppercorns.
For the glaze, zest the blood orange and add the juice from it. Add the honey, mustard, and vinegar, and while whisking, slowly add the olive oil.
Side: Winter Fruit and Nut Stuffing
A spoonful of stuffing.

Most stuffings are bread, herb and meat-based, so this recipe offers a creative change with dried fruit and wine.
Recipe from
Epicurious.com
.
12 tablespoons (1 1/2 sticks) butter
2 large Anjou pears, peeled, cored, cut into 1/2-inch cubes
1 tablespoon sugar
3/4 teaspoon ground cinnamon
4 cups chopped onions
1 1/2 cups chopped celery
1 1/2 cups Sauternes or other sweet white wine
1 1/2 cups chopped pitted prunes
1 1/2 cups chopped dried apricots
1 cup dried cranberries
2 tablespoons chopped fresh rosemary
1 tablespoon chopped fresh sage
14 cups 1/2-inch cubes crustless firm white bread (about 1 1/2 pounds)
1 cup pecans, toasted, chopped
Melt 2 tablespoons butter in large skillet over medium-high heat. Add pears; sprinkle with sugar. Sauté until pears are golden, about 5 minutes. Transfer to very large bowl; mix in cinnamon. Melt remaining 10 tablespoons butter in same skillet over medium heat. Add onions and celery; sauté until golden, about 15 minutes. Add wine and next 5 ingredients. Simmer until liquid is reduced almost to glaze and mixture is soft and moist, stirring occasionally, about 15 minutes. Mix into pears. (Can be made 1 day ahead. Cover and chill. Reheat to lukewarm before continuing.)
Mix bread and pecans into fruit mixture. Season stuffing with salt and pepper.
To bake stuffing in turkey: Loosely fill main cavity and neck cavity of turkey with stuffing. Generously butter baking dish. Spoon remaining stuffing into prepared dish. Cover dish with buttered foil, buttered side down. Bake stuffing in dish — alongside turkey or while turkey is resting — until heated through, about 25 minutes. Uncover stuffing in dish. Bake until top of stuffing is slightly crisp and golden, about 15 minutes longer.
To bake stuffing in dish: Preheat oven to 350°F. Generously butter 13x9x2-inch glass baking dish. Transfer stuffing to prepared dish. Bake uncovered until heated through, about 35 minutes.
Side: Herbed Potato Gratin with Roasted Garlic and Manchego
A dish of the simmering gratin.

Again, nix the potato casserole in favor of this side, which incorporates smoky cheese and yummy potatoes.
Recipe from
FoodAndWine.com
.
3 heads of garlic, cloves separated but not peeled
1 tablespoon extra-virgin olive oil
1 quart half-and-half
1 tablespoon chopped thyme
1 teaspoon chopped rosemary
Salt and freshly ground pepper
5 pounds Yukon Gold potatoes, peeled and very thinly sliced
9 ounces aged Manchego cheese, coarsely shredded (2 cups)
5 ounces San Simón or smoked Gouda cheese, shredded (1 cup)
Preheat the oven to 375°. In a 9-inch cake pan, drizzle the garlic with the oil. Cover with foil and roast for 40 minutes, until tender. Let cool, then squeeze out the cloves.
Mash the garlic to a paste and transfer to a saucepan. Add the half-and-half, thyme and rosemary and bring to a boil. Simmer over very low heat until reduced to 3 cups, 20 minutes; season with salt and pepper.
Arrange one-fourth of the potatoes in the bottom of a 9-by-13-inch baking dish. Top with one-fourth of the shredded cheeses and drizzle lightly with the garlic cream. Repeat the layering with the remaining potatoes, cheese and cream. Pour any remaining cream on top and press the top layer of potatoes to submerge it.
Bake the gratin for about 1 1/2 hours, until golden and bubbling. Let cool for 20 minutes before cutting into squares and serving.
Dessert: Spiced Pumpkin Souffle
A ramekin filled wtih the souffle.

Instead of pie, try this pumpkin dessert that is (again) perfect for individual servings and has Thanksgiving flavors to round out your meal.
Recipe from
Epicurious.com
.
1/2 cup whole milk
1 tablespoon cornstarch
1/4 teaspoon grated nutmeg
1/4 teaspoon ground cinnamon
1/8 teaspoon ground allspice
Pinch of ground cloves
3/4 cup plus 1 tablespoon granulated sugar, divided, plus additional for coating ramekins
3/4 cup canned pure pumpkin (from a 15-oz can, not pie filling)
10 large egg whites
1/4 teaspoon salt
Equipment: 8 (6-ounce) ramekins
Garnish: confectioners sugar
Whisk together milk, cornstarch, spices, and 1 tablespoon granulated sugar in a small heavy saucepan. Bring to a boil over medium heat, whisking, then simmer, whisking, 2 minutes.
Remove from heat and whisk in pumpkin. Transfer to a large bowl and cool to room temperature.
Preheat oven to 400°F with rack in lower third. Butter ramekins and coat with granulated sugar, knocking out excess, then put in a large shallow baking pan.
Beat egg whites with salt in another large bowl using an electric mixer until they hold soft peaks. Add remaining 3/4 cup granulated sugar a little at a time, beating, then beat until whites hold stiff, glossy peaks, 1 to 2 minutes more.
Fold one third of whites into cooled pumpkin mixture to lighten, then fold in remaining whites gently but thoroughly. Divide mixture among ramekins, mounding it.
Bake soufflés until puffed and golden, 18 to 20 minutes. Dust with confectioners sugar and serve immediately.
Related Articles: