Hot Couple #11: Ellen DeGeneres & Portia De Rossi
(Getty Images North America)
Celebrity Couple Hotness Quotient


0
|
|
|
|
10
|
|
|
|
20
Success:
Attractiveness:
Popularity:
Staying Power:
(Photo Agency)
more pics

»
Success.
In 2007,
Forbes
ranked Ellen #17 on their list of the Richest 20 Women in Entertainment, where they reported that she was worth $65 million, thanks to her talk show. No word on how much Portia receives for her television roles like
Arrested Development
and
Nip/Tuck
, but it's likely in the six figure range.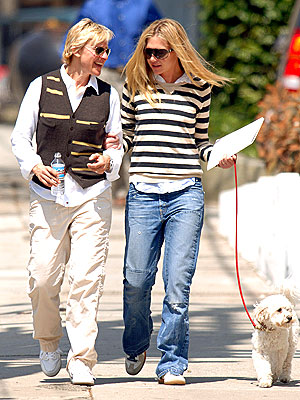 People

Attractiveness.
Portia's long locks and slender frame have helped her reach "vixen" status in the eyes of most people. Ellen has a much more masculine look going on, but she's cute for her age (51) and has a style all her own. Also, she was
recently hired by CoverGirl for a new campaign.
Hair on the Brain

Popularity.
Last month, about 1.2 million people searched Google for Ellen, and 135,000 searched for Portia -- enough to push them into the top third of our most popular couples.
The Insider
Staying Power.
These two just tied the knot last year, but they've been a couple since 2004. Ellen's had one high-profile relationship in the past with actress
Anne Heche
, but Portia's been linked only to non A-listers (she was previously married to a male documentary filmmaker). For the present, they seem content to be out of the tabloid pages and committed to each other. Watch Portia's appearance on Ellen's show below.
Compatibility.
These two are both Aquarius, so they get along great. The problem? No sexual chemistry and no deep feelings. As a result, this will probably be the most successful relationship on our whole list.
Related Articles: