Muntadhar al-Zeidi's Shoe Throw Becomes Huge Internet Meme
It's been a few days since Iraqi journalist Muntadhar al-Zeidi was arrested for throwing his shoes at President George W. Bush, which has given the Internets plenty of time to throw down on its latest favoritest meme.
"The Bush-Shoe Incident / Response Time"
(Play it here)
mind360.com
has this game to test whether or not you would be able to dodge the shoe
The Bush Shoe Dodge
(Play it here
)
The French blog Bienvenue Chez Kek has posted this game where you play as Bush to dodge the shoe.
Bush Shoe Incident Set to "Yakety Sax"
YouTube denizen PitirDhun has posted this video of the Bush shoe dodge set to the silly saxophone music made famous by Benny Hill.
Send Your Old Shoes to Bush
The
Fighting Liberals blog
is calling for Bush haters to send their old shoes to the Bush Presidential Library to let them know you ain't down with Dubya.
If you'd like to participate, here's the address:
George W. Bush Presidential Library
c/o SMU
6425 Boaz Lane
Dallas, TX 75205
And All the Animated Gifs
The boards over at
b3ta.com
have been going nuts with the animated Bush gifs. These things have been spreading all over the Net over the past couple of days. And just so you've been warned, if you're a Bush fan, you might be offended at some of these.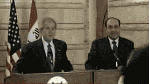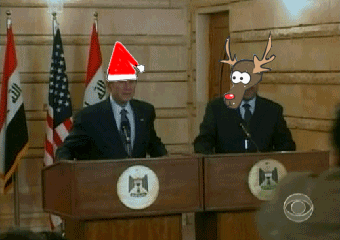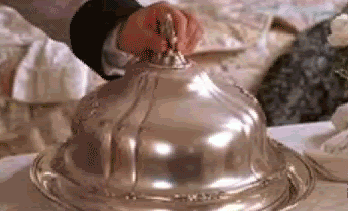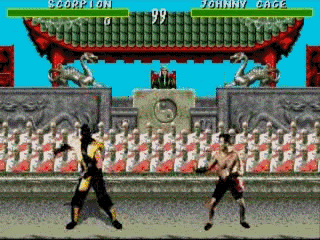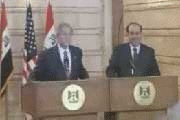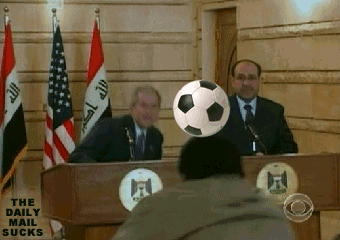 And Finally: Some JV Photoshopping
IRL
Here are some photos from the Palestinian protests held in support of Muntadhar al-Zeidi
Related Articles: