5 Pornstache Reactions to Pablo Schrieber Leaving 'Orange Is the New Black'
(Netflix)

You might leap from your seats and jump for joy, or cry silently in a corner when you hear this news:
Pablo Schreiber
, a.k.a. infamous dirty/horny corrections officer and all around awful human being George "Pornstache" Mendez, will not be returning to Season 3 of
Orange Is the New Black
. So, do we hear cheers or jeers in the background?
The actor
revealed
to the
New York Post
he'll be leaving Litchfield Penitentiary behind (along with his epic caterpillar mustache) in order to star in an upcoming HBO show called
The Brink.
It's a half-hour comedy with
Jack Black
and
Tim Robbins
. "Yeah, I was never a series regular on
Orange Is The New Black.
I was always a guest star. The role that I have on
The Brink
is a starring role, and it's a no brainer," he said adding that
The Brink
is a better move for him as an actor.
Whether you love him or hate him, there's no denying that Pornstache and his crude, careless behavior added a bit of flair to
OITNB,
and, dare we say it, made it a tad more fun to watch. Either way, as a final sendoff to the character, let's have Pornstache say goodbye to Pornstache, the most crooked corrections officer on the block: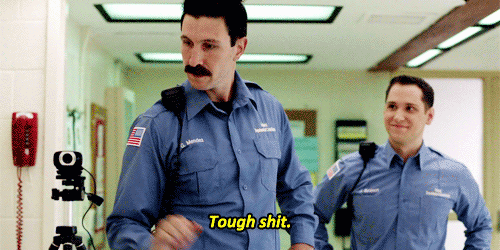 So long, Pornstache. It's been real. Unfortunately, this moment was too short lived: