5 New Shows to Get Excited About & 5 New Shows to Avoid
(ABC | Fox | TBS)
There's so much content available on television these days that it's hard to know what to consume, especially when the networks roll out a dozens of new shows for the Fall season. I know your mom told you to never judge a book by its cover, but your mom was wrong. Most of the time, you can totally judge a book by its cover, especially if the book is a TV show and the cover is an elevator pitch and a trailer.
How do you know what's worth your time and what should never take up valuable space on your DVR? It's a tough call — for every
Brooklyn Nine Nine
, there's a
Dads
. But now that the industry upfronts have wrapped, we've sifted through the upcoming lineup and separated the dirt from the gold nuggets. Set your viewing schedules accordingly.
---
Set Your DVRs: 5 Shows That Look Promising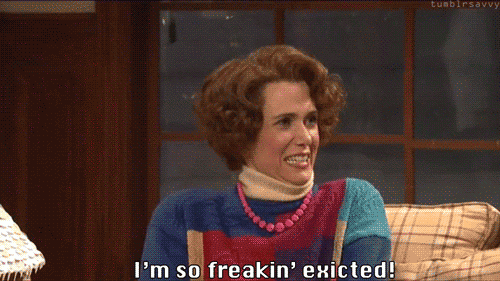 Marry Me
Network
: NBC
The Pitch
: A comedy about an inseparable longtime couple, Annie and Jake, who return from a two-week island vacation, and after a botched proposal plan, decide to put off getting engaged until they can get it together.
Why You Should Be Excited
: In addition to the fact that you'll probably use the phrase "garbage friend" in regular conversation now, there's a lot to like about this trailer, namely the leads. Everything
Ken Marino
touches is comedy gold, and
Casey Wilson
is one of the most underrated/under-appreciated comedic actresses working today.
The Last Man on Earth
Network
: FOX
The Pitch
: "A comedy series about two strangers who, after the apocalypse, must put aside their differences to ensure the survival of the human race."
Why You Should Be Excited
: The phrase "created by and starring Will Forte" should be enough to pique your interest. For me, I know I'd watch a guy drive an RV in his underwear if only for the
Breaking Bad
flashbacks, but make it Forte and give him free reign to treat the world like his own personal amusement park, and I'm so very in.
Tooken
Network
: NBC
The Pitch
: "A woman escapes from a doomsday cult and starts life over again in New York City."
Why You Should Be Excited
: Again, you've got to trust the talent. If it weren't for
Ellie Kemper
, the last few seasons of
The Office
would have been unwatchable, and when has Tina Fey ever steered us in the wrong direction?
Gracepoint
Network
: NBC
The Pitch
: "A 10-episode mystery event series follows the tragic death of a young boy, and the major police investigation and nationwide media frenzy that subsequently overtake a picturesque seaside town, where anyone is a suspect."
Why You Should Be Excited
: American TV ripping off British TV has yielded some pretty good results (unless you were a fan of the Brit version first, in which case you will always carry an air of superiority over fans of the Americanized version).
Gracepoint
is adapted from
BBC's
ITV's
Broadchurch
, which was almost universally praised and scored a 91 on
Metacritic
.
Angie Tribeca
Network
: TBS
The Pitch
: "Rashida Jones stars as a lone-wolf detective of the Really Heinous Crimes Unit who isn't happy when her boss makes her work with a partner."
Why You Should Be Excited
: Consider this your
Brooklyn Nine-Nine
methadone during the off-season. I'm still in
Rashida Jones
' corner even though Ann Perkins was always kind of a waste of space on
Parks & Rec
, and the guest stars are of the top-notch variety. Just in the trailer we get Gary Cole, Lisa Kudrow, and Alfred Molina.
---
Destined for Cancellation
: 5 Shows Worthy of a Facepalm
Selfie
Network
: ABC
The Pitch
: "A self-obsessed, twentysomething woman (
Karen Gillan
) hires a marketing expert named Henry (
John Cho
) to help restore her image."
Why You Should Be Skeptical
: This feels like the show version of when your parents joined Facebook. It reeks of a network exec's desperate attempt to jump on "what the kids are doing" and it misses the mark completely. How else do you explain the main character saying — unironically I might add — "totes," "coolio," and "dunzo" in the same sentence? Even the title delivers a full groan. Which is a shame because Karen Gillan and John Cho are both delightful.
Fresh Off the Boat
Network
: ABC
The Pitch
: "A '90s-set comedy about a hip-hop-loving Asian kid growing up in suburban Orlando, being raised by an immigrant father obsessed with all things American and an immigrant mother often bewildered by white culture."
Why You Should Be Skeptical
: Nothing says A+ humor like the easiest racial and cultural stereotypes, right?! Even the obviously forced accents hurt.
The McCarthys
Network
: CBS
The Pitch
: A sitcom about a loud, sports-crazed Boston clan and their loving yet naive relationship with the gay son/brother in the family.
Why You Should Be Skeptical
: Yay, more lazy stereotypes! (Plus, it's a comedy on CBS, which by now has become an oxymoron.)
Jane the Virgin
Network
: CW
The Pitch
: "A series of surprising and unforeseen events causes a hard-working, religious young Latina woman to be accidentally artificially inseminated."
Why You Should Be Skeptical
: Did they lose you at "accidentally artificially inseminated" too?
Manhattan Love Story
Network
: ABC
The Pitch
: "This romantic comedy exposes the unfiltered inner monologues of young couple Peter (
Jake McDorman
) and Dana (
Analeigh Tipton
) as they embark on a new relationship."
Why You Should Be Skeptical
: Guys love boobs and girls love clothes — SO UNFILTERED! I'm not sure anyone actually talks to anyone in this show. Just lots of staring and voiceovers. These people are terrible listeners.
BONUS: There's going to be another CSI (because $$$).
CSI: Cyber
The Pitch: "Centers on Avery Ryan, Special Agent in Charge at the Cyber Crime Division of the FBI. Ryan is tasked with solving high-octane crimes that start in the mind, live on-line, and play out into the real world."
Could Go Either Way: This is a CSI, so you know what you're going to get and it'll probably run for eight seasons, but the lengths they're going to make this seem extra interesting are laughable. "High-octane crimes?" Hahaha, what? And Deadline describes the spinoff as "a departure from the forensic DNA of the CSI franchise and is darker as it focuses on cyber crime." Yes, because identity theft is so much more intense then real-life murder.

For a rundown of all the new shows coming to TV this Fall, check out our preview special.
Related Articles: